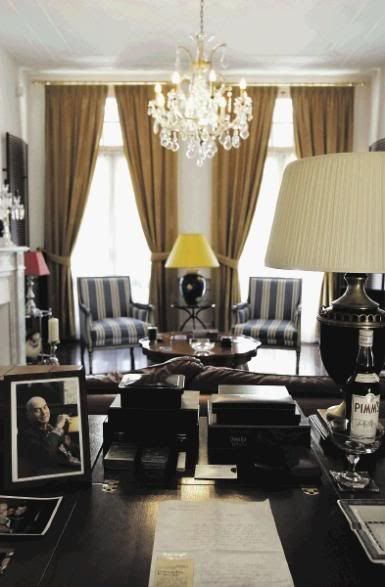 Today marks the fifth anniversary of the murder of Pim Fortuyn, the man who tried to break open the Dutch political elite and introduce some common sense in the radical multiculturalist mindset shared by the entire spectrum of Dutch politics.
Pieter Dorsman is
looking back
:
While Fortuyn's key strengths were arguing about less government with more room for the private sector and curbing immigration into a nation that was "full", Fortuyn's passion and sharp debating skills were above all fueled by an intense dislike of the vested order. The establishment was his real target. Not only had it rebuffed him more than once, he was on an intellectual level able to demonstrate how vacuous it had become. This solidified his passion and support and it enabled him to draw followers from all layers of society.

In a memorable debate the leader of the Labour Party pointed to the Dutch economic success story of the 1990s which had recorded unprecedented low unemployment figures. It was a classic and often convincing campaign argument, yet it was all Fortuyn needed to turn it around and make his point: "the government isn't in the business of employment, the market is. You're in charge of the public sector and that's where you've failed". In one stroke he had firmed up his popularity in the business world, but also among the less fortunate who could see that the public sector was no longer delivering adequate health and social services.
Bruce Bawer, author of
While Europe Slept
, focusses on the
Eurabian dimension
:
Fortuyn recognized the rise of fundamentalist Islam in Europe as a menace to democracy. And he said it straight out — eloquently, forcefully, fearlessly. Back in 1997 he'd published one of the first books anywhere to sound the alarm. Only days before September 11, 2001, he wrote that communism's role as a threat to Western freedom "has been taken over by Islam."

But instead of recognizing him as a prophet, Dutch leaders saw him as a threat. On September 11, Dutch Moroccans gathered in the streets to cheer. But the interior minister, De Vries, ignoring these enemies within, warned instead that counterintelligence services would "pay sharp attention to persons who want to … conduct a cold war against Islam." Meaning Fortuyn.
(...)
Many political assassinations leave behind haunting questions. How would Reconstruction have gone under Lincoln? Could the Vietnam debacle have been avoided if President Kennedy had lived? Five years after Fortuyn's murder, it can feel as if Volkert van der Graaf robbed Europe not only of a brilliant champion of liberty, but of its one great chance to save itself before it's too late.
Elsevier magazine
(NL) sums up the five years after the murder succinctly:
In this respect five years of debate have thus been wasted years: many words, no deeds.