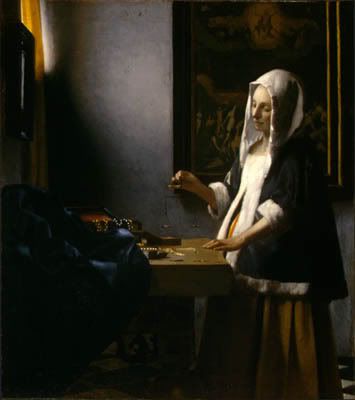 Woman holding a balance - Vermeer
In the wake of the
Ondiep riots
, we received an email form an American poet, who was moved to
write a poem
linking Vermeers painting, experiences of relatives during the liberation of The Netherlands (especially fitting with Liberation day, May 5th, coming up) and the state of out nation as evidenced by the riots.
It is a stark reminder of what we stand to lose if we keep on selling off (and selling out) our history, our past achievements. In their drive to form a new world, the party people that make up the leading squads of the baby boom generations have forced us to give up, to forget everything that has been achieved before the 1960's. To abandon all that has goen before, because it allegedly does not speak to us and our times anymore.
But as
the apostle said
: "Prove all things; hold fast that which is good".
This is not about misplaced pride in achievements we of this generation had no part in. This is about examples set by our ancestors, like Vermeer. It is up to us to judiciously examine what they left us and preserve that which is worth, even necessary, to preserve. If we don't know where we came from, who we are, we will have no defence against those that want to mold us in their misbegotten images of humanity.
Know your history!