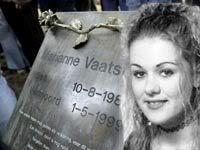 Marianne Vaatstra
(NL), a 16 year old girls from Kollum, Friesland, was brutally raped. Subsequently her throat was slit. This happened 8 years ago. The murderer of Marianne was never found. Or was he?
De Telegraaf
today reports that Mariannes parents received an
anonymous letter
(NL). In the letter, the anonymous author, evidently part of the staff of an AMOG (Asylum seekers With Unadapted Behavior, a centre for those asylum seekers that are deemed dangerous), details how a couple of days after the murder of Marianne Vaatstra a limited number of the staff of the AMOG Musselkanaal was gathered and told, under terms of strictest confidentiality, that a new asylum seeker was arriving, no intake evaluation needed.
The asylum seeker in question was to be strictly kept separate from all others. A few days after arriving, the man was whisked away by the Immigration Service, escorted by a heavy detail of guards, and put on a plane to his country of origin. The staff intimate with th case were told that there was an outstanding warrant against this man in his home country for the rape and murder (by slitting their throats) of several women.
A few months later the AMOG in Musselkanaal was closed and staff and employees were transferred or let go. The anonymous writer alledged that the head organisation Central Organ Asylumseekers (COA) was aware that the man in question was the murderer of Marianne Vaatstra and wanted to get rid of this embarrasment.
That they went to such extraordinary lengths to keep the whole thing under wraps should also be clear to anyone familiar with the inner workings of a multicult nanny-state: The perpetrator could not be caught, because that would undermine the support for aid to asylum seekers in the Netherlands. Thus, if any of the letter is true, the life of a sixteen year old Dutch girl was deemed worth less then public opinion on asylum seeker aid in the Netherlands. Or worse, in this case it appears the gentle people of the COA deemed the life of Marianne worth less then the arrest and trial of a particularly vicious rapist and murderer. Welcome to multiculturalism.
Heads should roll, of course. And equally naturally they won't. Not in the Netherlands, not in
its current state
(NL).
Picture courtesy of Elsevier magazine