Do you want to demonstrate in Brussels because you think 9/11 was an inside job of the evil nazi US government? No problem, go ahead. But don't you dare to commemorate the victims of 9/11 because then you get this:

parliamentary member grabbed by the balls
And this:
Police against peaceful demonstrators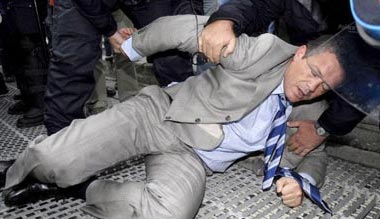 In Europe the real danger is not young radicals of any kind, but old and moderate pro-Western US loving conservatives.
Even the Belgium television reports how violent the police acted and shows how the people behind the reporter are not even allowed to show their messages to the TV camera (mostly Dutch language). Of course the reporters don't worry much about the loss of freedom of speech, they worry that this police brutality may make the demonstrators and arrested politicians look good (and it goes without saying, everybody know these people are evil):
The Belgian police beat up the peaceful demonstrators in what even the Belgian public television call "an extremely violent fashion":
Police handling a Belgian parliamentary leader of the biggest opposition party (25% of the population voted for this man).
STATEMENT OF:
Secretary General of the Council of Europe
Europe is threatened by bigots - not by Islam



Statement by Terry Davis, Secretary General of the Council of Europe, on the march "Against the Islamisation of Europe" today in Brussels



European values are under threat, say the organisers of a protest march under the banner "Against the Islamisation of Europe" which was due to place today in Brussels in spite of the ban by the city Mayor. The fact is that Europe and its values are indeed under threat, but the danger is not coming from Islam. Our common European values are undermined by bigots and radicals, both islamists and islamophobes, who exploit fears and prejudice for their own political objectives.

The self-proclaimed defenders of European values say that the Mayor has violated their rights under the European Convention on Human Rights. The freedom of assembly and the freedom of expression are indeed essential preconditions for democracy, but they should not be regarded as a licence to offend. I will not enter into the discussion about whether the march should have been allowed or not, but I note that the protesters' reading of the Convention is selective to say the least. It is very important to remember that the freedom of assembly and expression can be restricted to protect the rights and freedoms of others, including the freedom of thought, conscience and religion. This applies to everyone in Europe including the millions of Europeans of Islamic faith, who were the main target of today's shameful display of bigotry and intolerance.
Read more about this police brutality at:
Brussels Journal - Capital of the EUSSR
Brussels Police Arrests Demonstrators and Politicians
European Socialists Do Not Want European Citizens to Protest
Insoumission blog
International Herald Tribune
Jihad Watch
UK commentators blog
Gateway pundit:
1
,
2
,
3
,
4
,
5
,
6
,
7
,
8
,
9
,
10
,
11
,
12
Tundra Tabloid:
1
,
2
DR (Danish)
Islamtoday.com
ABC news Australia
BBC news
VDare blog
The Lone Voice
EUReferendum blog
Librabunda blog
Washington Times
More pictures here:
TV2.dk
Winds of Jihad
Bull's Eye on Immigration
Center of Vigilant Freedom
Flickr - White Elefant
Het Belang van Limburg - Slide Show
More movies at:
France language RTL news
Dutch blog - Geenstijl.nl (Dutch)
Corriere TV (Italian)
Gates of Vienna (1)
Gates of Vienna (2)
Gates of Vienna (3)
Gates of Vienna (3)