Today in
the Volkskrant
(NL) the report (from 'sources close to the cabinet') that this cabinet
will boycot
any attempt at organizing a referendum on the Turnip.
If an 'own initiative law' makes it through Second and First Chamber (a chance not quite equal to zero), it will still need a signature from government ministers. In a deal not made public (or reported to parliament, for that matter) the cabinet members have agreed not to sign anything, effectively blocking such an 'own initiative law' from coming into effect.
Alexander Pechtold, leader of the minor opposition party D66, said if the minister refused to sign the bill, MPs could then threaten not to ratify the new treaty.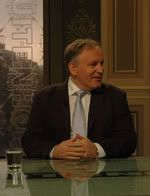 Asked this morning in a radio interview, state secretary Timmermans (European Affairs), would not
confirm or deny
(NL) this report.
It is quite extraordinary for a cabinet to decide before hand to go against both Chambers of parliament. This in itself may indicate a slight panic in the coalition. In a
commentary in Trouw
(NL), the cabinets dilemma is described thus:
The decisive reason to not hold a referendum is that a possible 'no' would saddle the cabinet with an impossible assignment. Again renegotiating is a very unlikely option, the cabinet says itself with a sense of understatement. Minister Plasterk, in 2005 a no-voter, was honest about it. He said that there isn't an alternative to the current treaty, other then leaving the European Union. Factually, that is what it would come down to.
Thus, in a sense, the dilemma is of the cabinets own making. Apparently considering leaving the EUnion and striking out on our own is one bridge too far for this cabinet, who have evidently deluded themselves into thinking that the world will end without the EUnion.
By maintaining that leaving the EUnion is the only possible outcome for a renewed 'Nee', and unwilling to face the consequences of leaving the EUnion, this cabinet has painted itself into a corner. A cornered cat makes surprusing jumps. That this cabinet is willing to risk a confrontation with Second Chamber, First Chamber and a large majority of the Dutch populace, diving head first in possibly the worst crisis since 150 years, bears that truth out.