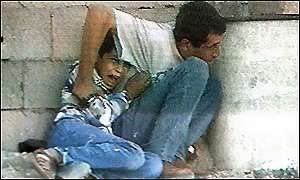 On this blog we have (too) sporadically paid attention to the
'Al Durah Affair'
. Mohammed Al Durah was the 12 year old Palestinian child that was shot by Israel troops during a stand off between the Israelis and Palestinian rioters back in 2000.
Images of Mohammed Al Durah and his father trapped in the cross fire were shown world-wide and did some consierale damage to the Israeli side of the conflict. But all is not what it seems to be. In France a trial is going on, the centre piece of which, at this moment, is the judges order to France 2 (owner of the Al Durah footage) to make the raw footage available. Witnesses who have seen the raw rushes (as opposed to the tiny farction of edited material that was shown to the world) have testified to the many clues and indications of staging (
where have we heard that before
). Blogger and historian Richard Landes was a witness in the trial. He has good in depth coverage of the trial(s) around the
Al Durah affair here
. For a quick overview
Wikipedia is your friend
.
And now there's a new twist. Over on Pajamas
Nidra Poller reports
that the injuries that Mohammeds father claimed were the result of indiscriminate Israeli fire in the incident in 2000, were in fact axe woundes he received in 1992. The bitter irony is that those wounds were treated in an Israeli hospital, by Israeli doctors. Since no good deed may be left unpunished the doctors good work was sunsequently used against them and their nation years later.
Now we learn that Jamal used the arm restored by Israeli surgeons to act out the blood libel that provoked the murderous rage that killed countless Israeli civilians, including courageous doctors who had treated Palestinians with the same generosity he experienced.
The Al Durah 'shooting' was one of the leading causes of the Second Intifada. It also was the excuse trotted out after the
human feeding frenzy
in Ramallah. It is not farfetched to say that the current tragic situation in Israel and the Palestinian territories is in a large part the result of the narrative of Al Durah, spun by Pallywood and France 2. A narrative that increasingly looks like the mother of all lies, the mother of all
fauxtography
.