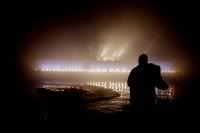 Update to
this story
. The Telegraaf
today claims
(NL) the three muslims arrested last Monday, December 31, were
planning an attack
on the big New Years party in Rotterdam:
Thursday 03 January 2008

- Three men arrested in Rotterdam on New Year's eve following a tip off by the security services were planning a terrorist attack on the city's Erasmus bridge where 15,000 people were due to celebrate the New Year, according to Thursday's Telegraaf.
According to the Telegraaf, internet communications by the three suspects revealed they were expressly planning on causing a bloodbath among the 15,000 revellers gathered together on the Erasmus bridge.
The scary bit in all this is not the fact of the foiled plot itself. It is rather the absolute silence around the arrest. Immediately after the arrest no statements were made why the arrests were made, who the suspects were or what they were up to.
The security forces were om high alert. So much so that a group of people trying to get on to the Ersamus bridge were arrested by officers
with drawn guns
(video). But the people at large were kept in the dark. Even the
website of the NCTb
(National Coordinator for anti-terrosism) showed the risk of an terrorist attack as being 'beperkt' ('limited'), even as they held the three suspects in custody.
Evidently the authorities do not trust the public, tried not to worry the heads of the huddled grey masses. Or tried to keep the facts around this foiled attack silent so as not to 'undermine the support' for the multi-cult Eurabian mirage the authorities cannot seem to give up. We've been here before,
remember
? Whatever the reason, as the facts around this case are starting to drip-drip-drip their way out into public opinion, all that it the silent 'nothing to see here' attitude seemed to have accomplished is a further erosion of the trust placed by the public in the authorities.