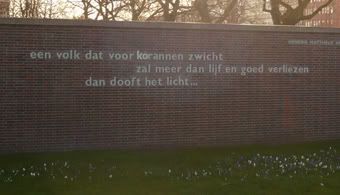 In Amsterdam, at the Weteringplantsoen, one will find one of the best known monuments dedicated to the atrocities of World War 2 in the Netherlands. It is a simple brick wall containing three lines of poetry by
H.M. van Randwijk
(1909 - 1966):
Een volk dat voor tirannen zwicht
zal meer dan lijf en goed verliezen,
dan dooft het licht...
In a completely inadequate translation, these lines mean:
A nation that to tyrants yields
will lose more then life and goods alone,
then fades the light away...
In these troubled times several parties have reminded the Dutch people of these, what are arguably the most famous lines of poetry in the Netherlands. Not least of which was
Hans Jansen last Thursday
, when he condemned FM Maxime Verhagens plea to not release Fitna.
It was this monument that was 'vandalized' by unknown rogues early Tuesday morning, as
AT-5 reports
(NL). In those famous lines of van Randwijk, two letters were replaced, so that the word 'tirannen' (tyrants) was changed to 'korannen'. A replacement I don't think I have to explain to our audience, do I?
And thus van Randwijks immortal words have been updated, but remain as true as ever. Are you paying attention,
Jan-Peter
? Something is stirring...