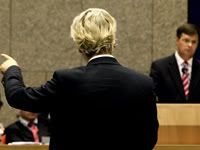 Thus
Geert Wilders qualified our current prime minister
Jan-Peter Balkenende today (NL).
Prime minister Jan-Peter Balkenende (CDA) made sure that 'everyone from Timbuktu to Afghanistan' knows about the coming Quran film. The PM therefor is personally responsibe for the increasing worldwide unrest.

The PM called on Wilders on Friday to take his responsibility and think hard about the consequences of his Quran film, before showing it.

But according to Wilders the PM only increases the unrest and causes a 'self-fulfilling prophecy'. 'The prime minister has made it a big deal himself by leaking my plans for a film.'

Wilders today called Balkenende a 'scared coward of a man' and the weakest prime minister since World War Two. 'And I will not be bullied by a frightened prime minister.' Additionally he holds Balkenende responsible for 'all the misery that will happen.'
Meanwhile, Wilders has
agreed to a sneak preview
for the Dutch National Coordinator for anti-terrorism, Tjibbe Joustra, on the condition that the viewing is not used as an excuse to ban it. Something which the cabinet is not willing to guarantee.
Wilders is currently negotiating with a number of Dutch broadcasters about publicly showing Fitna, which could happen within days. The main stumbling block seems to be the unwillingness of broadcasters to show it unedited. However, Wilders assured broadcasters the film will not run foul of Dutch law. 'It will be a splendid and correct film within all frameworks of Dutch law.'
If an agreement is not reached between Wilders and Dutch broadcasters, he will hold a press conference later this month, just before releasing Fitna on the internet.
(photo courtesy of Elsevier)
[UPDATE001 Wed 5 - 3]
The site for Fitna has not gone exactly live, but there's movement:
fitnathemovie.com
.