Yesterday the Dutch government
received kudo's
from the international counterjihadist and freedom scene for the Attorney Generals decision
not to press on with a prosecution of Geert Wilders
for inciting hatred and discrimination (see also
Gates of Vienna
).
Undeservedly so. A Jordanian "special-interest" group, called ''The Messenger of God Unites Us", managed to get a Jordanian prosecutor to
officially charge Geert Wilders
with "blasphemy and contempt of Muslims" in releasing "Fitna" and ordered Wilders to stand trial in that beacon of democracy and Rule of Law.
This is the first step in obtaining an international arrest warrant against Geert Wilders. If that warrant is issued Wilders will effectively be banned from travelling. If he is on foreign soil after the warrant is issued he risks an arrest by Interpol and extradition to Jordania to stand trial. This is, of course, an unacceptable intervention in our national political process. And it sets a scary precedent. If our government does not resist this unwanted interference, it effectively means that any and all national parliamentarian, at least in Holland, runs the risk that Wilders is now facing: Extradition to two-bit, third-rate shit holes with delusions of civilization and a chip on their shoulder.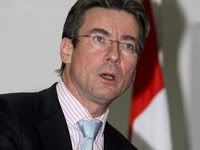 And that is exactly what our government is doing: It
does not resist this unwanted interference
(NL). Yesterday Geert Wilders called upon our Foreign Minister, Maxime Verhagen (right), to summon the Jordanian ambassador to formally protest the Jordanian court case against Wilders. Verhagen refused on the grounds that that would be an 'unacceptable intrusion in Jordanian justice', continuing that 'I also would not accept it if the Jordanian Foreign minister would interfere with Dutch justice'.
Verhagen promised that the Dutch government would never agree to extradition of Wilders. But Wilders would do well to be wary of promises made by this government. Remember
the Turnip
. Or
Ayaan Hirsi Ali
.
Indeed, Verhagen is already covering his rear-end in case of any cabinet flip-flop. Reports the
Nederlands Dagblad
(NL):
Verhagen added he could not exclude the possibility that a [Dutch] politician is arrested abroad. Penal systems differ from one another and Dutch MP's do not enjoy diplomatic immunity.
Which leaves ajar the door through which this government may boot out yet another 'trouble maker'.
[UPDATE001 Wed 2 - 7]
NIS News calls it as it sees it:
Netherlands Okays Jordan Prosecuting MP Wilders
. In effect that is exactly what Verhagen did, didn't he?