And the hits keep on coming. After
the turn-about by Dutch authority
on the prosecution of Geert Wilders for inciting hatred, the Jordanian group
''The Messenger of God Unites Us"
greeted the news with much happiness. The Legal Project, who
according to Fox News
supply Wilders with pro bono legal help, shares this tidbit in
a rather searing indictmen
t
:
Even more disturbing is that the State of Jordan, most likely acting as a stalking horse for the OIC, has issued a request for Wilders' extradition to stand trial in Jordan for blasphemy of Islam, a crime for which Shari'a law declares the penalty to be death. The Dutch parliament has taken the extradition request very seriously, and has shut out Wilders from all multi-lateral negotiations. As a precaution, Wilders no longer travels abroad unless he can obtain a diplomatic letter from the destination state promising he won't be extradited. For years now, Wilders has lived under looming death threats complemented by the threat that any day, Interpol might issue a warrant for his arrest at Jordan's behest.
The news was also reported by
Elsevier today
(NL):
The Jordanian muslim movement 'The Messenger of Allah Unites Us' is delighted that Geert Wilders will be prosecuted by the Amsterdam court of justice. Legal procedures in Jordania whould lead to an international arrest warrant 'within ten days'.

'Finally, justice in the Netherlands undertakes steps against these serious crimes', says Zakaria Sheikh, president of [The Messenger of Allah Unites Us].
More on this
at Brussels Journal
.
Giddy with their unexpected success, some of those that filed the motion to prosecute Wilders have now set their sights on another PVV MP: Hero Brinkman (pictured). He gained some notoriety
mentioning the corruption
and incompetence among the governments of the Dutch Antilles out loud. Today
the Telegraaf reported
:
The anti-racism organisation 'Nederland Bekent Kleur' expects Geert Wilders and fellow party member Hero Brinkman will also be prosecuted for their statements regarding the [Dutch] Antilles. Spokeman René Danen told Radio Netherlands that he thinks that Brinkman will also appear before a judge. 'Because the statements of Wilders and Brinkman regarding the Antilles are comparable to those about muslims'.

Which, as we now know, are statements that are principally correct, but which the establishment does not like to hear.
What a difference a few years make. When we started this blog, the Dutch had
a reputation comparable to the Danes
. But now it seems that the Netherlands has joined the madness of the UK, France, Sweden and Norway, in their mad dash to destroy the spirit of the native people, for diversity's sake. Or, as
Mark Steyn puts it
:
In the Netherlands even the most innocuous statement can get you into trouble. To express his disgust at Theo van Gogh's murder, the artist Chris Ripke put up a mural outside his studio showing an angel and the words "Thou shalt not kill". But the cops thought this was somehow a dig at the local mosque and so came round, destroyed the mural, arrested the TV news crew filming it, and wiped their tape. The Dutch have determined to commit societal euthanasia, and dislike fellows pointing out it might not be as painless as they've assumed.
The staggering injustice of all of this is nicely
put into words by Bruce Bawer
, in a piece he concluded with these words:
In Dutch Muslim schools and mosques, incendiary rhetoric about the Netherlands, America, Jews, gays, democracy, and sexual equality is routine; a generation of Dutch Muslims are being brought up with toxic attitudes toward the society in which they live. And no one is ever prosecuted for any of this. Instead, a court in the Netherlands—a nation once famous for being an oasis of free speech—has now decided to prosecute a member of the national legislature for speaking his mind. By doing so, it proves exactly what Wilders has argued all along: that fear and "sensitivity" to a religion of submission are destroying Dutch freedom.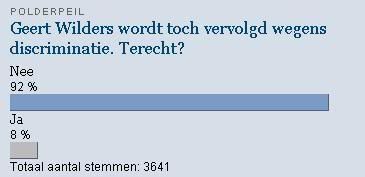 But just to end this post on a positive note: The natives are stirring. Even if the 'official' polls show a support for the decision to prosecute Wilders of around 50% (43%
here
and 53%
here
, both NL), more... informal... polls show something different. A
poll on Geenstij
l
has 86% of respondent disagreeing with the Amsterdam court of appeals decision, a poll on Elsevier (no longer available) had some 85% of the respondents agreeing with Wilders that yesterday was a black day for freedom, and even
on Trouw
, christian-left-establishment leaning though it has become since Jaffe Vink was ditched, results showed a staggering 92% of respondents disagreeing that the prosecution of Wilders is justified (left).
And so, to our government and other assorted authorities: You hear that groaning sound? It's the lid of the pressure cooker you're holding down with all your might.
It is about to give...
[UPDATE001]
GoV has more on stirring Dutch natives
. And some muslims who are worrying about the effect the Amsterdam courts decision might have.
"Slowly but surely Islam gets its way once again. Disgusting!" one of the typical responses. (...)

Mustafa Aarab, program leader of the Muslim Dutch Broadcasting Corporation (NIO) thinks differently. He is likewise worried about rising tensions between non-Muslims and Muslims. "People are afraid of Islamisation. I can't understand why Muslims say they are happy with the prosecution. The gap only gets wider, just because of it".
Yes, that seems to be the upshot...