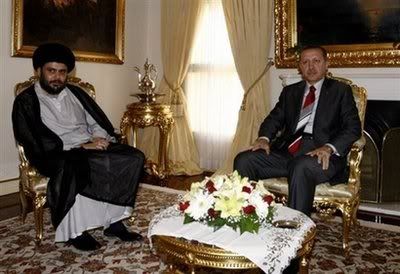 If anything, this photo (
AFP
) shows unequivocally why Turkey does not belong in a league of civilized nations, including the EUnion: Turkish PM Recip Erdogan held a face-to-face with
Muqtada Al-Sadr
, the cretin that tried to import the Islamic Revolution to Iraq at the behest of his Iranian masters. In the process he was responsible for dozens of killings of fellow Iraqi citizens. After two years of hiding out in Iran Al-Sadr resurfaced in the company of Turkish PM Erdogan.
According to
The Telegraph
:
Mr Sadr, a Shia extremist who leads the Mahdi Army militia, is believed to have spent the last two years in Iran. In 2004, his gunmen began an uprising against American troops in Baghdad and British forces in the Shia heartland of southern Iraq and Mr Sadr briefly became the leading opponent of the foreign occupation.

But his militia suffered a crushing defeat at the hands of Iraq's new army last year and Mr Sadr's followers have since turned to mainstream politics.

urkey has a vital interest in bringing stability to neighbouring Iraq and curbing Iranian influence. Mr Sadr met both Recep Tayyip Erodgan, the Turkish prime minister, and President Abdullah Gul in Ankara on Friday.

The talks concentrated on "security in Iraq and the promotion of links between the parties", according to Anatolia, a Turkish news agency.
Security in Iraq... Somehow those words sit well in a sentence that includes the name Muqtada Al-Sadr. And as for Turkey: Do we really, really want a fellow EUnion member state that treats the uncivilized, primitive likes of Al Sadr as serious partners in peace and security talks?
h/t
Gatewat Pundit