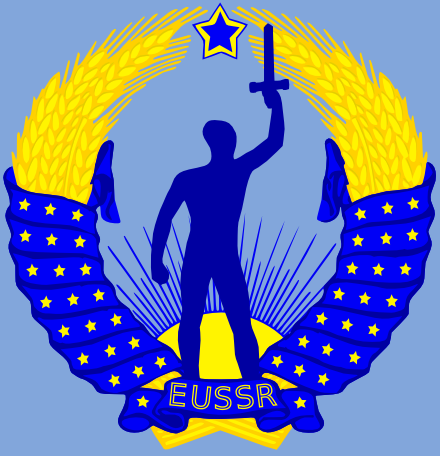 With the Irish referendum in the bag
Bruno Waterfield warns us
that behind closed doors the EUnion is racing to dot the i's and cross the t's to cement its status as our supreme government.
Confidential negotiations on how to implement the Lisbon Treaty have produced proposals to allow the EU to negotiate treaties and even open embassies across the world.

A letter conferring a full "legal personality" for the Union has been drafted in order for a new European diplomatic service to be recognised as fully fledged negotiators by international bodies and all non-EU countries.(...)

Lorraine Mullally, the director of Open Europe, described the move as "a huge transfer of power which makes the EU look more like a country than an international agreement".

"Giving the EU legal personality means that the EU, rather than member states, will be able to sign all kinds of international agreements – on foreign policy, defence, crime and judicial issues – for the first time," she said.
Infuriating as this may be (remember Jan Peter Balkenende and Frans Timmermans swearing the EUnion was not about creating a super-state?), one is hanging his head in red-faced shame when one reads that the Dutch government is actively involved in the betrayal of solemn promises and guarantees.
A restricted document circulated by

the Netherlands, Belgium and Luxembourg

, seen by The Daily Telegraph, spells out the need for legal changes to set up a European External Service (EEAS), an EU diplomatic and foreign service with "global geographical scope".

The paper said: "The EEAS will need a legal status providing it with functional legal personality so that it has sufficient autonomy.

"This legal personality should also give it the capacity to act as necessary to carry out (its) tasks."
Also note the transparency of our 'democratic' supreme government: Confidential negotiations and restricted documents.
In the mean time, here's your read for today:
Freedom in Jeopardy
, by D. Andrews (thanks to
Sally
for pointing it out). It gives a good overview of why the Turnip (and the EUnion as a whole) is such a danger to fundamental liberty and goes against everything that is understood when we speak about a democratic government mandated by the people.
That piece is too long to do justice with an excerpt or two. But if you value your freedom and, dare I say, personal sovereignty, this is one read you should not miss.
[UPDATE001]
Mr. North on
EU Referendum
:
The end game is all but complete. Our politicians have sold the pass. They have allowed our government to be stolen. And if they don't care, we should. We are to be ruled by an alien power. It is not our government – it is theirs. We owe it neither loyalty nor obedience.
[UPDATE002]
It looks like Czech is going to cave:
Czechs 'to back treaty this year'
. So much for our last great hope.