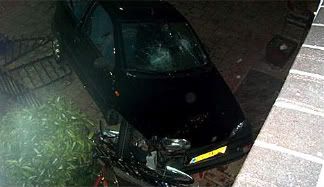 In Culemborg, a small town near Utrecht,
Moroccans and Molluccans
(the latter being an ethnic group living in exile from the
South Moluccas
) are at each others throats. The unease has been festering for some time now. But things came to a head when during the New Year celebrations a car with
three Moroccans drove into a group of Moluccans
(NL) standing in the front yard watching the fireworks.
Their drive ended in a garden against the front of a private home, hitting two people standing in the yard. These victims were lightly injured.

The passengers of the car tried to escape, but were attacked by angry Moluccans. Two passengers were injured, one which had to be taken to hospital by ambulance. The three Moroccans were later apprehended for attempted manslaughter.
Yesterday (Sunday) night
saw fresh violence
, with a number of windows of Moluccan homes smashed by rocks. No arrests were made, but the situation is serious enough for the mayor of Culemborg to
declare an emergency situation
(NL), thus giving temporary extra powers to police to stop people who do not live in the area from entering.
However, this seems primarily aimed at Moluccans from the north of Holland reinforcing their kin in Culemborg. Culemborg Moluccans are complaining that the police does exactly nothing to quell the nuisance caused by Moroccan youth. If you look at the
time line
(NL) what strike you is the typically Dutch (i.e. softer then soft) approach towards the Moraccans, with streetcoaches and 'dialogue' featuring prominently.
What you won't see, however, is any attempt to forcefully shut down the main culprits of the unrest or to protect their victims. In that respect Moluccans are treated exactly the same as native Dutch. As opposed to other groups, they seem to be fully integrated. For what that's worth...
[UPDATE001; 4 - 1]
This is what happens when authorities fail to respond to citizens worries: The Moluccan chapter of the Hells Angels, Satuh Darah, will
patrol the streets of Culemborg
(NL) tonight (Monday). In a comment on an article in
De Telegraaf
(NL) a comment was left reading:
Tonight two chapters of the Saruh Darah Motorclub (Moluccan branch of the Hells Angels) will drive around in Culemborg. Dear fellow Moluccans, don't be afraid. We are there for you.
Shades of Denmark
, don't you know?
[UPDATE002; 4 - 1]
The incident with the car on New Year turns out to be an attack directed at a
thirteen year old girl
(NL).
The 15 year old Shoëla Coenmans earlier that week witnessed a car on fire. She recognized one of the Moroccans that had set the car alight last Tuesday, called 1-1-2 [the Dutch 911 - KV] and filed a complaint. Two days later [New Years Eve - KV] five older Moroccans drove their car into the house. Father John Coenmans says: "This is not a coincidence. Wednesday in the supermarket she was intimidated, threatened and Thursday once more. Later they drove into her. They first drove into a group on the other side of the street. Fortunately they could jump out of the way. Then they drove into a fence. That didn't work. They backed up the car to make speed. the second time they did get through the fence".
Five Moroccan men in a black Punto against a 15 year old girl. Such heroes! The Algemeen Dagblad registers a similarity: A small, black car driving purposefully into citizens. Shades of
Queensday 2009
.
BTW, Esther is
also blogging
...
[UPDATE003; 4 - 1]
Isn't that just typical? For months, years even, that scum from the Rif were allowed to run roughshod on the population of Culemborg, vandalizing and robbing their way through the days. But now that it seems the population, Moluccans in particular, are about to make a stand, the neighbourhood in question is
closed off
(NL) and visitors are turned away by riot police. Shades of
Ondiep
, remember?
[UPDATE004; 6 - 1 ]
A revealing quote from
Het Parool
(NL) today:
Many Moluccan families have lost all faith in the authorities in general and in particular the mayor, who showed a lack of strength and leadership in (not) dealing with the conflict between Moluccan and Moroccan youth that has been brewing for months now.

Many Moluccans are particularly incensed that they were 'rushed' into their homes by the riot police. "Those that didn't listen received blows, while on the corner of the street the Moroccans looked on laughing. Disgusting", says inhabitant Anneke Ririmasse.
Yes, that is typically Dutch government in times of unrest as we've come to know it: Don't deal with aggressors, but try to take away any cause of possible aggression. In another era we'd call it appeasement. Today one would probably speak of frank, disgusting dhimmitude.