Today's quote of the day could hardly have come from anywhere else, could it?
If something is true, it cannot possibly be illegal, can it?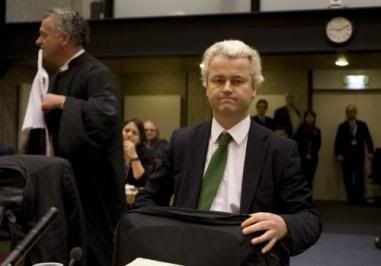 That is going to be the litmus test, isn't it? Have things gone so far in the Netherlands that telling the truth (about the contents of the Koran, or the contents of Muhammeds character, for that matter) will now become illegal?
Coverage of the trial is abundant, so I will refrain from repeating what others have probably said much better then I could possibly do. I'll just refer you to:
Jihad Watch:
Geert Wilders: "If a politician is not allowed to criticize an ideology anymore this means that we are lost, and it will lead to the end of our freedom"
"According to Wilders, the truth about Islam must be made known, even if it is painful and unpleasant for certain people"
Al-Jazeera proves Wilders' point
Wilders: "If expressions reflect the truth, how could they be criminal?"
Pamela:
Geert Wilders Goes on Trial Today
Geert Wilders Trial: Scenes From the Criminal prosecution of Free Speech
Gates of Vienna:
"You Are Living in an Islamic Country, My Friend"
Geert Akhbar!
The Opening Salvos
"It Is Becoming Frightening Now…"
Tabled Until February 3rd
A Partial List of Witnesses
The Trial of Geert Wilders
Snouck:
Geert Wilders on trial for criticizing Islam
What does Wilders want?
Diana West:
The Wilders Trial: Voices From Europe
Pajamas Media:
Geert Wilders: 'Freedom Is Threatened in the Netherlands'