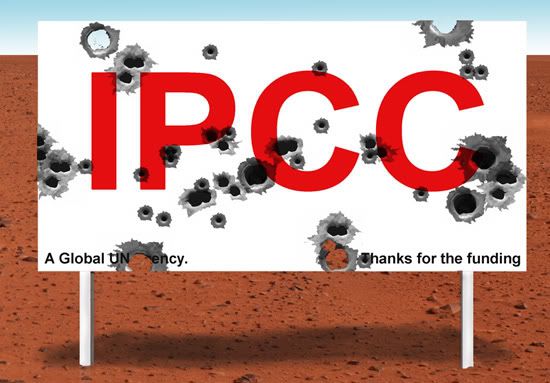 By now the credibility of the IPCC AR4 report from 2007 is thoroughly and utterly shot.
Peil.nl
(NL) shows results from a poll about climate awareness, contrasting the results to a similar poll held a little over two months ago (December 10, 2009). In that short period the number of positive responses to the question 'Are you worried about how the climate on Earth develops' dropped rather spectacularly from 63% in December 2009 to 48% this February. Strikingly, the number of negative responses increased by a similar amount (from 34% to 48%) with the 'Don't know' category only gaining a single percent (a pdf with results can be downloaded
here
). This would seem to indicate that the controversy around Climategate and the IPCC has radically changed the views of many a Dutch.
Thus it isn't surprising that today saw another scandal around the IPCC AR4 erupting. Richard North of EURef once again proves to be a formidable nemesis of the IPCC. Tracking back the chain of references that leads to the IPCC's conclusion (trotted out whenever a UN big-wig deems it opportune) that global warming leads to a situation where in some African countries, yields from rain-fed agriculture could be reduced by up to 50 percent by 2020. And in so doing he discovers '
Africagate
'.
By now the fact that 'mistakes were made' in drawing up the IPCC AR4 report is not news any more. But reading the post on EURef is a useful exercise, in that it gives a good insight into the rotten, one-sided, unscientific way the much-vaunted 'peer-review' process actually worked out. As it turns out, the source of the claim in question is one (1) review by am obscure academic, basing its conclusion on just one out of three policy papers relating to North Africa. And even then it was highly selective (to the point of outright fraud) in relaying the main conclusion.
A couple of days ago we
published a post
calling the IPCC AR4 report 'a very thick pamphlet, written by activists and advocacy groups'. This latest post by Mr. North proves the truth of that statement definitively.
(
picture courtesy of Joanne Nova
)