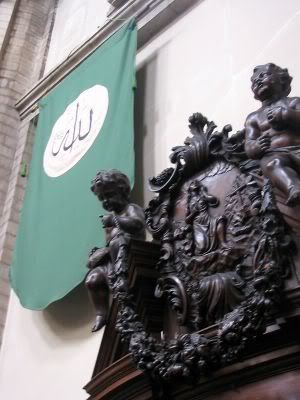 The discussion about the role of the church in these troubled times once again came to the fore this week, when protestant daily
Nederlands Dagblad
(NL) reported a survey, in which 75% of vicars agreed with the statement that a christian ought not vote Wilders or the PVV. From
Dutchnews.nl
:
A Christian cannot vote for Geert Wilders' anti-immigration party PVV, say 75% of church leaders in a poll of 1,200 ministers and church workers in the Nederlands Dagblad.

The ministers represent a cross-section of all the Netherlands' Protestant churches, representing 2.3 million people, the paper says.

One third of the people polled said there were people who supported Wilders in their communities and 5% said Wilders had a lot of support.

'Wilders and the PVV's views contradict Christianity,' one minister told the paper.
The poll was sent to 4,000 vicars, of which 1280 took the trouble to answer. This fact alone has raised questions about
to what extent the poll is representative
(NL). Including the number of non-respondents, the best one can say is that 22.5% of vicars are of the opinion that christians cannot vote PVV. The opinion of 70% of vicars is unknown, because they didn't answer the poll.
Of course this didn't prevent the MSM from gleefully reporting the 'news' that 75% of Dutch protestant vicars think Wilders and the PVV beyond the pale for any real christian. However, the ND article is slightly more nuanced in its reporting, pointing out that most of the resistance against the PVV is to be found on the more liberal side of protestant Netherlands, i.e. on the left. Curiously, evangelical vicars are far more understanding of their flocks sympathies for Wilders. In the ND, one evangelical minister is quoted:
A discussion about islam is very necessary. Mainstream parties are not conscious enough of the intolerant danger of islam rushing in, I feel.
In addition, one protestant vicar, himself a sympathizer with Wilders' PVV, states that Wilders is pointing out issues that are currently taboo.
In Holland you have to start a court case for the right to eat a normal meatball in jail, because we serve halal meat. We pamper newcomers to the extent that they become completely welfare-state dependent. If youth are admonished for their behaviour, you're called a racist by many new citizens. That rules out any dialogue.
In the mean time, over at
View From the Right
, an interesting discussion is developing. Starting out with accusing the Dutch of being of the same stripe as Bishop of Canterbury Rowan Williams, participant Daniel O. points out the one-sidedness of the poll. No such poll has been held with regard to D'66, an objectively and fanatically anti-christian party.
Another commenter, Charles T., notes the 'liberal political philosophy and strategy which the "Christian" church has so stupidly adopted'. That is familiar territory for this blog, where we have pointed out the crass stupidity of the current crop of church leaders
again
and
again
and
again
.
Charles T. closes his comments by noting that 'it is so unfortunate that many of our Christian leaders have become so useless'. To which a follow-on comment responds: Much worse than useless. I couldn't agree more. But what else can one expect in a country where even
the crown prince
(NL) is educated on matters islamic by an 'academic' specializing in religious studies, who is convinced that 'islam is a religion of peace and muslims are victims for who we must feel empathy'?