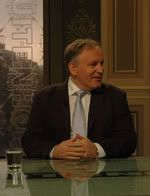 From the
Telegraaf
(NL) we learn that PvdA state secretary Frans '
lying bastard
' Timmermans called upon parties not willing to cooperate with Geert Wilders' Party for Freedom to band together.
The PVV may govern in or support a new cabinet, as Wilders has indicated. To Timmermans this must not become a reality. In his eyes the Netherlands are on a knifes edge, because Wilders wants to marginalize groups if the population.

"It's a historic moment if Wilders succeeds in entering the country's government", accrding to Timmermans. According to him the PVV is more extremen then Pim Fortuyns LPF. The latter thought that immigrants should adapt, whereas Wilders goes for assimilation. That would mean giving up their identity.

Timmermans feels that the CDA and VVD ought to make clear how they feel about cooperation with the PVV. According to him, these two parties are "enormously misty" about this issue. Not that this is about a cordon sanitaire, according to Timmermans. He feels it is not undemocratic to use democratic means to prevent certain schools of thought from gaining influence in government.
The notion that there are actual people with actual opinions about matters political is completely alien to Frans Timmermans. He has already shown this in the way he actively contributed to denying the Dutch a say in the ratification of
the Turnip
the Lisbon Treaty. Thus it isn't much of a surprise that he can't see beyond the The Hague bubble. Oblivious to the world around him he's calling for the political classes to conspire in ignoring the opinion of at least one-fifth of the Dutch.
In the mean time, the
CDA has already signalled
(NL) their willingness to leave open all options, making Timmermans 'not a
cordon sanitaire
' a non-starter. Says CDA fraction leader Pieter van Geel:
We exclude no-one. We don't want a cordon sanitaire, which Mr. Bos seems to be aiming for.
Note also that van Geel seems to be aware that Timmermans is the sock-puppet of our erstwhile minister of Finance.
This is how the PvdA thinks it will save iself from ignominious defeat? Stop making me laugh, I'm hurting!