On our
Resources page
, down at the bottom, there's a nifty link to the
IJIS webpage
tracking the extent of Arctic sea-ice. You know, that ice that AlGore is still predicting to have disappeared completely within now and very soon.
Clicking on the link will bring you to a graph (reproduced below), showing the current Arctic sea ice level in comparison to the levels of years before, back to 2002. And clicking on it today we find that as it currently stands (March 31), 2009 Arctic sea ice extent matches that of 2002, which coincidentally is the year with the largest ice mass for this period.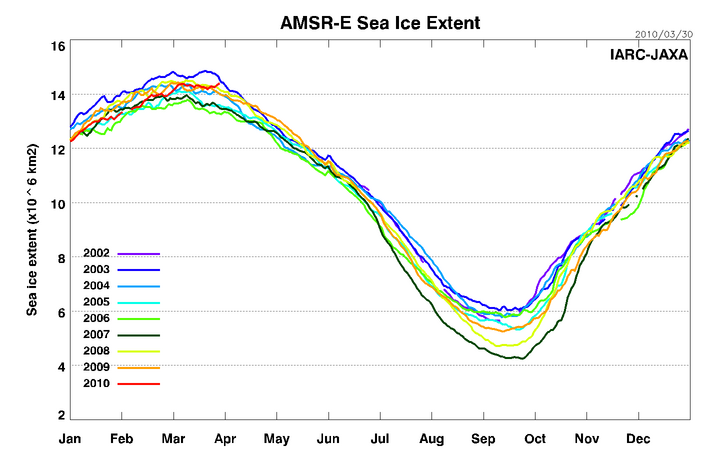 Thus it seems that news of the demise of the North Pole are greatly exaggerated. Something you won't see on TV, hear on the radio or read in the paper, of course.
[UPDATE001]
In the mean time, realizing that the AGW game is about up, those same lovely people are now regrouping for another assault on our environmental guilt: More CO2 causes 'ocean acidification' <
insert wailing and gnashing of teeth here
>. Head on over to
WUWT
for more, including the comments, which will point out how to quickly and easily debunk this latest attempt at green scare-mongering. '... second time as farce...', indeed!
[UPDATE002]
Richard North
reminds us that while the debate on the science of AGW is back in full swing, with the 'sceptics' seemingly on the winning side, the AGW agenda is still alive and kicking, hardly bruised by the blows to he science of climate change of the last few months:
The climate change scare is merely a front used to conceal on the one hand and, on the other, to legitimise a far more sinister movement which has at its root politics, power and money. (...)

The worst of this is that, to be implemented – even if on a phased basis – none of these measures need popular approval or legislative assent, other than the introduction of cap and trade in the US which, despite reports to the contrary, is still going ahead. Almost all the enabling mechanisms are already in place.

The danger – the very great danger – is that the sceptics who believe they are winning, and the many who believe that this is about science, and even global warming, are failing to understand what is going on, right under their noses. So far, we haven't laid a glove on them.

And that is depressing.
Freedom requires eternal vigilance, as
a philosopher
once said.