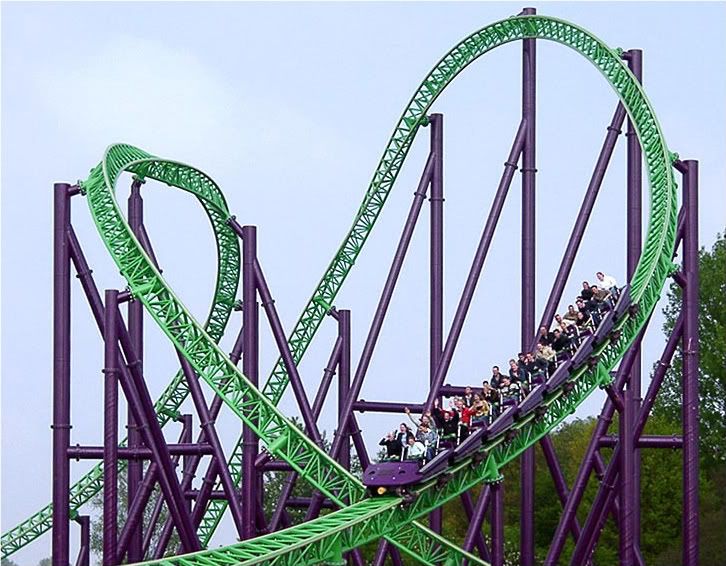 The attempts at formation of a Dutch cabinet are increasingly resembling a ride on
the Goliath
(p).
Today, quite suddenly, the ringleader of the CDA dissidents against a government supported by Wilders' PVV announced his decision to
leave parliament
and give up his seat.
Christian Democrat MP Ab Klink, whose opposition to an alliance with the anti-Islam PVV precipitated the collapse of talks on forming a right-wing government, has resigned as an MP.

'The events of the past week have created an unworkable position for me within the CDA MP group,' Klink said. That meant the basis for working together had been damaged and he could no longer do his job properly, Klink said. He will remain a member of the CDA.
This on the day that all fractions leaders were invited by the Queen for a consultation round. Wilders' reaction,
via SMS
(NL), was hesitant: 'I've learned of Klink leaving. there are two dissidents left. We will see where this will lead'.
Mark Rutte, fractions leader of the VVD and designated PM, said after his visit with the Queen that
the key to a right wing cabinet
(NL) is with Wilders. Rutte has advised the Queen that he would like to write a preliminary covenant of government (the 'treaty' on the basis of which a coalition forms a working government) and that he where he is concerned a co-operation of right-wing parties is still his preferred option.
Even better: This morning Rutte immediately ruled out the Purple+ variant, where the cabinet would include the VVD and all the main left fraction in parliament. Which gives one no end of relief.
All in all this last week has been spectacular, in Dutch political terms. High drama is followed by depression, is followed again by elation. Just when hope seemed all but lost, it is yet again very much alive. The tension is killing me!
[UPDATE001]
Snouck has some background info and commentary on the current situation
here
and
here
.
[UPDATE002]
To those readers that had expectations for me to predict how this will play out: My apologies. But I don't feel comfortable giving any more then just the dry facts right now. The political situation at the moment is so fluid (which is a nice, neutral word for 'unstable') that anything I, or anyone else, is predicting may be mooted within now and a couple of hours. I don't remember Dutch political wranglings this convoluted, ever. This surely is unique in recent Dutch history.
Put on the spot, I'll admit I've a hunch that a right wing cabinet may be pulled out of the hat yet in the days to come. Then again, something unexpected may crop up again tomorrow to throw a monkey wrench into the works. There's just no telling.
[UPDATE002]
And there it is:
Right-wing coalition back on the table as Wilders says 'I'm in'
.