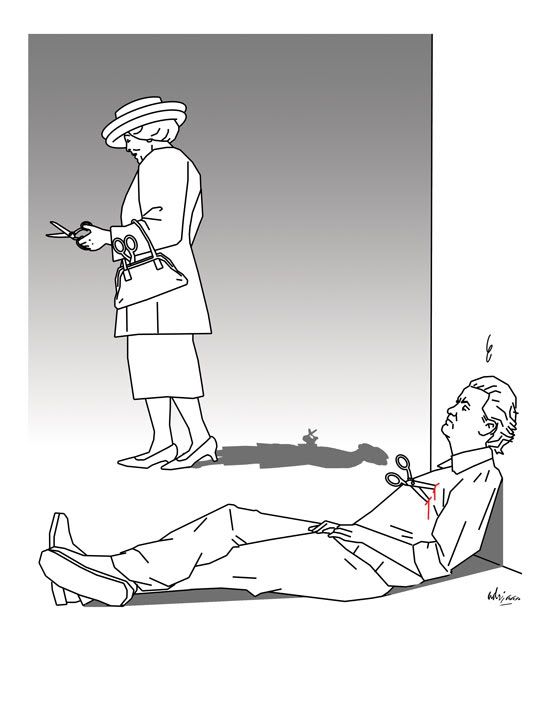 The 'cartoon' displayed above was published on Joop.nl (which I won't favour with a link). Joop.nl is a leftist corporate blog (clog) financed by public broadcaster VARA, which itself is closely tied to the PvdA (Dutch Labour) and socialist unions.
The cartoon is a reaction to
Wilders' proposal
to limit the active involvement in politics of our royal family. Wilders' proposal comes in the wake of the
increasingly politicized
Christmas speeches by our Queen, and her apparent
attempts to sabotage
a Dutch government involving the PVV.
The 'cartoon' is entitled 'ceremonial only' and refers to the limited role, as envisaged by the proposal, of cutting ribbons for our Royal House, as does the pair of scissors thrust into Wilders' chest by a mightily miffed Queen Beatrix.
I am not going to comment (much) on the proposal itself. I have my doubts about its wisdom, though I share the concern that the Royals should be sovereigns to all Dutch, and not just those that line up with the Queens political preferences. A proposal that would ensure a more impartial Royal family would be beneficial. But that is a matter of morality, more then it is a matter of job-description.
I will however comment on the fact that this cartoon saw the light of day at all. Yes, we have freedom of expression and the cartoonist in question is free to hold the opinion he has of Wilders. But this cartoon is a rank (and rancid) murder-fantasy. A malicious bit of 'Wouldn't it be great if ...?', that does not contribute a single bit of wisdom to the discussion or highlight an aspect of the issue many have overlooked (as is usual for a good political cartoon). I am not even going to note the evident, and jarring, lack of humour in the cartoon (well, I just did, didn't I?).
On KV we've noted the rotten, cold-hearted atmosphere in the contemporary Dutch political debate
before
. This putrid little cartoon seems aimed at deepening the rot, up until the point someone, somewhere will act out the malicious fantasy the cartoonist in question so delights in. But note this: It is not the right, or even extreme-right, that is contributing to this state of affairs. It is the left, the oh-so moral, social just, holier-then-thou socialists that have sunk to the dankest, most putrid depth of this particular pit. Remember, 'by the fruits of their labour shall you know them...'.