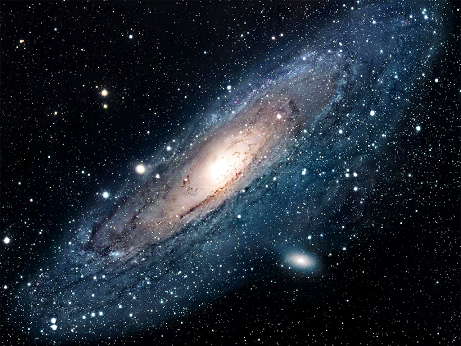 ... for something completely different.

Modern-day mainstream cosmology (that branch of physics trying to understand why our universe is the way it is) holds that 80% of the total mass present in the universe is so-called
'dark matter'
. It is a mysterious substance, that neither emits nor scatters light. The only way it is observable is through the gravitational effects this mysterious matter has on the universe around us.
And it is completely theoretical.
Dark matter was proposed as a solution to make the Einstein models of the universe fit the observations we have on the real one. Introducing dark matter into the models has been very successful in explaining a number of phenomena we observe in our universe: Gravitational lensing (a distortion of our view of the universe by gravity acting on light as it crosses space from its source to our receivers), the non-uniform distribution of the radiation left over from the Big Bang (the so-called background radiation) and the strange way in which spiral galaxies rotate.
But there are studies that shine a worrying light on the actual existence of dark matter. For instance, dark matter and black holes
do not interact
. And that is a bit weird, if you consider that the defining characteristic of both is gravity. This seems to create a bit of paradox.
This seeming paradox hinges on the assumption in main-stream cosmology that clusters of galaxies are evenly distributed throughout the universe. That means that objects like galaxies are affected equally on all sides by gravitational pull of far-away matter. In other words: Gravitational effects form far away matter cancel each other out. However, this may not be the case. In fact, it has been suggested that the way galaxies and clusters of galaxies are organized around the universe
is fractal
, not uniform.
Running with the idea of a fractal universe, mathematician Andrea Carati
modelled the way spiral galaxies rotate
. In his study he assumes a non-uniform, fractal distribution of galaxies. This results in non-uniform gravitational effects. In fact, on large scale objects (galaxies and larger) he finds that far-away clusters of galaxies exert a significant 'tidal' effect. With a little more math, Carati came up with predictions of how a spiral galaxy would rotate under such conditions.
His results
(pdf) were spectacular. Applying his mathematical model to a number of observed galaxies, his predictions are virtually identical to the observed rotation speeds. And he doesn't have to resort to dark matter to get this good a fit.
My inner geek finds this incredibly cool. To me the idea of dark matter and dark energy always seemed to be the equivalent of the
'aether'
, which 19th century physics needed to explain the propagation of electro-magnetic (light and radio) waves. It is ugly and rather brutal. And it rests solely on the assumptions underpinning our 'best' models of the universe. Dark matter just HAS TO exist, because the models are wrong without it (are those echoes of the AGW CO2 hypothesis I hear?).
But here we have in Carati a potential scientific hero, replacing a key assumption about our universe with an alternative. And is able to explain observations just as well without dark matter. One of the three main phenomena that 'prove' the existence of dark matter, can be adequately explained without filling our universe with an invisible goo to the tune of 4 times the mass of the observable universe. It is beautifully elegant. Stuff like this just brighten my day.
(via
Vox Day
; Normal programming will resume shortly)